Overview
Part of the TrevoCon series – Control (disambiguation)
TrevoCon-1000_Bangs is a Max for Live plugin for testing CPU load of various Max and Max for Live objects. What's more efficient, a Max "button", Max "number", Max "led", Max "trigger bang" or Max for Live "numbox". Use my "TrevoCon-1000_Bangs.amxd" MIDI effect to test your system.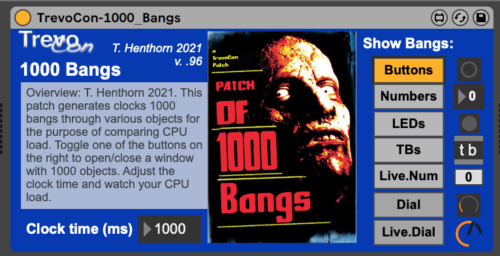 History
In March of 2016, as the "Made Audible" duo, Jeff Kaiser and I traveled to Amsterdam to research sonification possibilities at STEIM. I worked on sonification of real data sets while Jeff developed his "Kaigen" probability generative tools (years before Ableton assembled their "Probability Pack", BTW). Jeff was adamant about using "t b" over any CPU hungry GUI objects (such as buttons). I took this as gospel and changed my workflow to incorporate "t b", "t b b", "t b b i b b", etc. 
After 5-years (and some CPU and timing issues), I figured it was time to quantitatively test and compare. There is plenty of vague "max msp cpu" discussion out there, but little is quantified. TrevoCon-1000_Bangs sends an adjustable clock to floating pop-up windows that each hold 1000 cascaded objects. I tested it with Ableton Live 11.02 using a 2020 13-inch, M1 Macbook Pro (after a recent reboot; with no other applications running). Shockingly, the "button" object performs slightly better than the "trigger bang".
Not-so-shocking, the live.numbox performs horribly (even when it's "Parameter Visibility" is set to "Hidden").
The bottom line for my tests – if you have CPU issues, replace your live.numbox objects with Max number objects. 
Also, check out Jeff Kaiser's "KaiGen — Interactive and Generative Software" (the earliest and best probability tools in Max for Live).
Download
Download the Max for Live patch – TrevoCon-1000_Bangs.amxd.zip
Results
Using a clock time of 5 ms:
Max Buttons – 8% CPU load
Max Numbers – 12% CPU load
Max LEDs – 8% CPU load
Trigger Bangs – 9% CPU load
Live.numbox – 784% CPU load
v. .96 adds Max and Live Dials – as you would expect the Max Dial is only slightly less efficient than the Max number and the Live dial causes the Macbook to burst info flames.