Overview
Part of the TrevoCon series – Control (disambiguation)
TrevoCon-m802 is a Max for Live plugin and standalone Max 7 application for the control of Grace model m802 pre amps. The TrevoCon-m802.amxd M4L plugin runs inside of Ableton Live with optional control from the Push 1 or 2. Use one Ableton Live MIDI track with one TrevoCon-m802 to control each pre amp. Control as many amps as your MIDI setup will allow.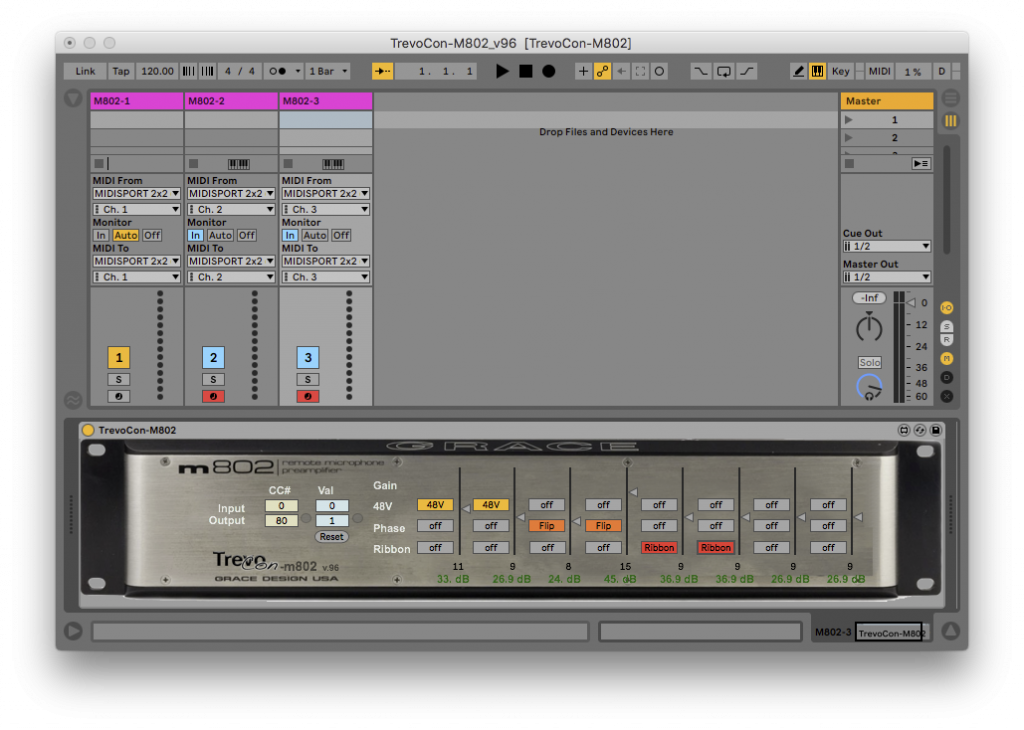 The standalone TrevorCon-m802.app is setup to control 3 pre amps that listen on MIDI channels 1,2 and 3 (using an MIDI interface of your choosing).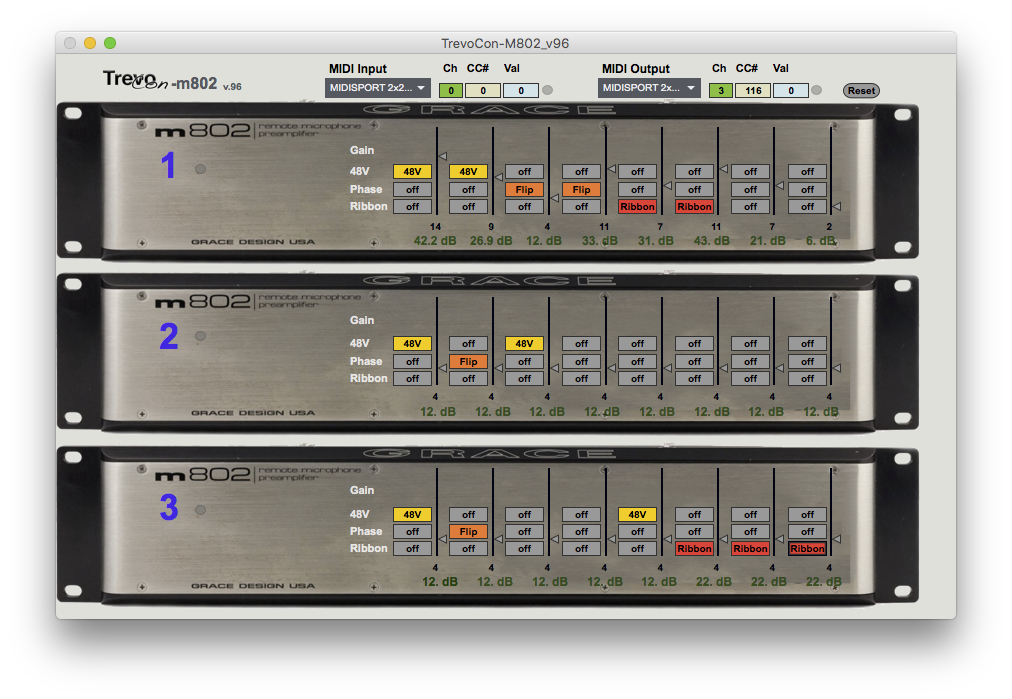 MIDI Implementation
The Grace m802 uses the same MIDI implementation as the Digidesign pre amps (http://akmedia.AVID .com/support/docs/PRE_Guide_v80_56123.pdf). Note that the m802 requires a MIDI heartbeat. TrevoCon-m802 provides this every 5 seconds. The main difference between the M4L plugin and the Max patch (and application) is in the MIDI i/o implementation. The M4L plugin uses ctlin and cltout and the Max patch uses midiin and midiout (with midiformat). Because of the Max patch's need to send channel information, the reset system is a bit more complicated (and includes a delay sequence). Other than that, the M4L and Max patches are about the same.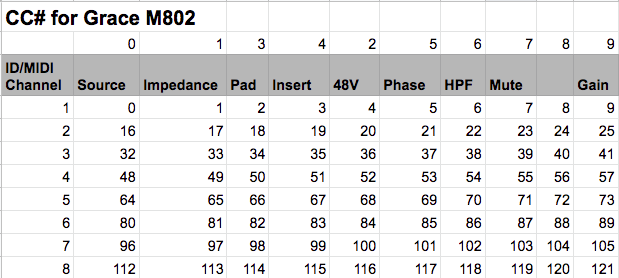 Downloads
Installation:
No externals are required to run this plugin. Place the TrevoCon-m802 plugin on a MIDI track and assign the MIDI input and output.
Usage:
TrevorCon-m802 controls one m802 pre amp.
Gain: Use the Sliders to adjust the gain. Note that the m802 has gain stages. The stages are shown below the plugin faders with conversion to dB.
48V – Enable and disable 48V. 
Phase – Flip the phase of any channel
Ribbon – Enable ribbon mic mode. This disables 48V and adds 10dB to the gain.
Reset – Reset the Gain to stage 4 (i.e. 12dB). Turn off 48V and ribbon.
In the M4L version, as long as the Ableton Live channel is record-enabled, it will receive MIDI. So, changes to the m802 will change settings on the Plugin.
TrevoCon-m802 is set to retain Ableton Live settings. When the Project is loaded, settings saved with the plugin will be sent to the m802 pre amp.
Thanks to T. Erbe for the usage suggestions and MIDI spec.
View more patches in the TrevoCon series…