Overview
From the Kickstarter description: "Pipes is a new audio platform which out-horsepowers a laptop, outperforms any sample player, and is built to get even better over time."
As of writing this, I have been playing with Pipes for 3 weeks, and figured it would be useful to share my experience and start a list of "how-to's". For me, Pipes is a computerized sound module wither sampler features.  It has a built in sound library, plus it can import audio files and sampler keymaps. I've paired it with the Novation Circuit Tracks, Behringer X-Touch and a few E-mu modules.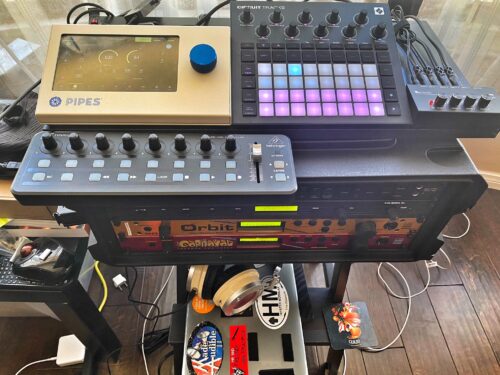 Controllers
Pipes has USB and (full-sized, weird that I have to say that) MIDI i/o. It recognizes USB class-compliant controllers at boot time. If you plug in a controller after it's running, just double-tap the big blue knob. The USB powers my X-Touch and Circuit Tracks. And, it can send MIDI thru to other devices.
The Layout and Presets
As with sound modules, Pipes has 4 layers ("Pipes") that can be assigned to any MIDI channel or just played as a stack. Each Pipe can have up to 5 "Tweakers" (what most of us recognize as MIDI manipulation) and 5 audio Effects (Distortion, Chorus, Delay, Reverb, etc.). As I received, it there were 161 factory presets that combine Pipes, Tweakers and Effects. 
Right there, this device is similar to those E-mu boxes I love so much!
Note: tempo is stored within presets. 
Loading my own sounds
This is where the concept of Pipes excels. Many of us have a collection of samples or commercial sample libraries in a variety of formats. Finding a good workflow, even with a modern DAW can be complicated. Pipes can load audio files or it can load presets from some common sampler formats. 
I have had 100% success loading my EXS sample libraries. 
The key to making this work is file organization. I have a workflow now that's pretty simple. Pipes wants instruments (sampler presets) to be in a top level folder, while the support assets (e.g. WAV files) can live in any hierarchy below the "Samples" folder. This organization works for me: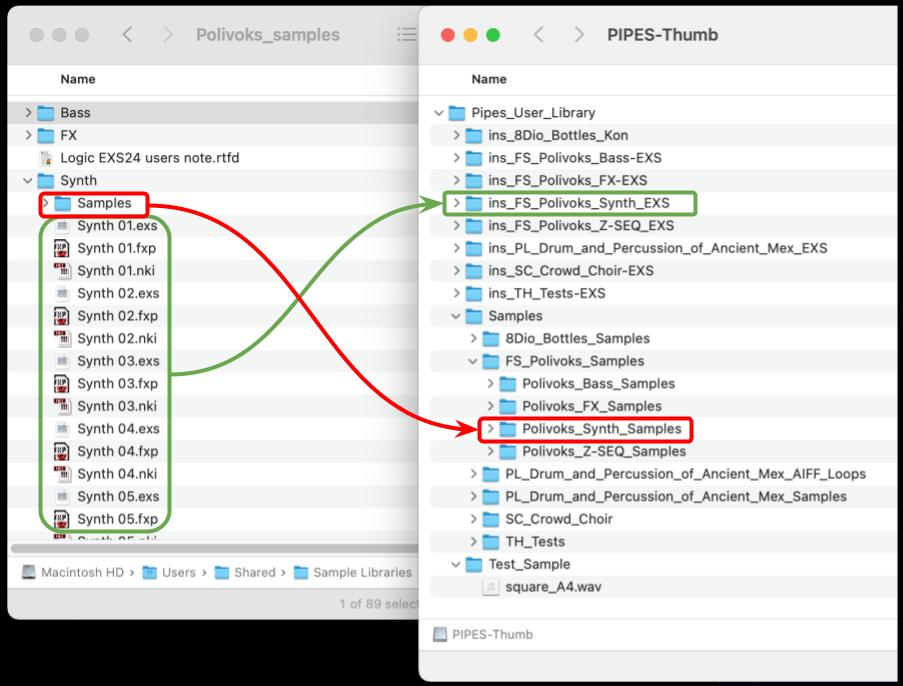 So, I built a "Pipes_User_Library" folder on my laptop with the samples organized, then I copied that to a thumb drive, put that into Pipes and run Pipes' import. 
Pipes has no problem with those 10+ year-old EXS patches and I have also loaded some Kontakt 3.5 libraries. By the way, for $2, you can't beat this "Bottles" library from 8Dio.
It does take time to sync the samples from the thumb drive to Pipes. Once done, the patches can be easily browsed and Previewed.
Here are the libraries I have loaded now:
Polivoks – from Factory Sounds (originally from CD), EXS
Bottles – from 8Dio, Kontakt 3.5
Drums and Percussion from Ancient Mexico – from Producer Loops, EXS
Crowd Choir – from Sonic Couture, EXS
TH-Tests – my own test files (sine, square, etc.) that I use to confirm that Pipes is doing what I want it to do.
Rhodes Mark II – from Keyboard Waves, EXS
Help! If you have a sample instrument that falls within the spec of what is compatible with Pipes but it still does not load/play, then the Synesthesia folks can help – email the container file (.exs, .nki, etc. not the samples) to techsupport@synesthesiacorp.com.
See my Pipes_User_Library page for additional information on building a sampler instrument in Logic for use with Pipes. 
Preview 
And, this is where Pipes blows away every other module and DAW browser. When browsing an instrument, you have full playback capability via MIDI. This makes it easy, say, to play the MIDI from the sequencer or keyboard and turn the big blue know to audition instruments. 
Building Keymaps
This wasn't obvious to me at the beginning, but each of the 4 Pipes can have their own keymap. Just sync samples from a folder on the thumb drive, then use the magnifying glass to browse and load sounds. After you've loaded a sound, set it's range and load another. 
LFOs and Mixer
Really, so I can send an LFO to any knob? Ok, that's cool. Yes, DAWs do this, but it's hard to find more than 1 LFO in a hardware module. The mixer gives you control over the levels of the 4 Pipes. Don't forget – triple-click the big-blue-knob to mute.